Sir Charles Sladen A.C.M.G. 1816-1864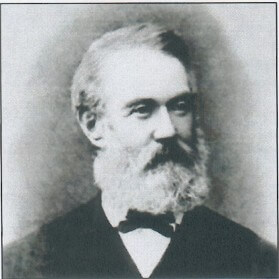 Transcription from the framed history hanging at Sladen House

Charles Sladen was born in Ripple Court, Kent England on August 28th, 1816.
He was the second son of John Baker Sladen, Deputy Lieutenant of Kent and his wife Ethelred.
Educated at Shrewsbury School, Charles Sladen matriculated at Trinity Hall, Cambridge, in 1834. He graduated B.A. in 1837 and L.L.B. in 1840.

On August 11th, 1840 he married Harriet Amelia Orton, daughter of shipwright William Henry Orton.
Sladen arrived in Geelong on February 14th 1842 and within 12 years built up a flourishing legal practice.
The 1840s saw Sladen involved in almost every community activity. He was the first Treasurer of the Geelong Benevolent Society, a trustee of the Savings Bank, a vice president of the Orphanage, and a member of the committee for the formation of the Botanical Gardens. In March 1949 he shared in the opposition to the proposal to transport convicts to Port Phillip and in April was prominent in the moves to secure municipal institutions for Geelong. His desire was to help other worse off.
A keen sportsman, he both participated himself in hunting, coursing, cricket and sailing and shared in the management of clubs and organisation of facilities, including the Corio Club.
In 1853 Slader returned to England for a short visit. He sold his interest in his business and retired from legal practice. Sladen then became a pastoralist, purchasing Rippon Vale near Birregurra. Charles Sladen developed a very successful Leicester sheep stud. He won many prizes for the quality of his stock at agricultural shows. He built a large attractive house at Rippon Vale. Gold discoveries near Ballarat left Sladen without labour as servants and workmen left their employment to chance their luck.
Sladen took part in Victorian politics and took a conservative stance in political disputes. when responsible government was established under 1853 Act, he was elected as member for Geelong in Legislative Assembly in 1855 and was Treasurer until 1857.
In 1863 Sladen returned to live at Chilwell, leasing out his station. The next year he was elected to the Legislative Council for Western Province. He became leader. Sladen formed a stopgap ministry and was elected Premier in 1868.
Sladen was a vigorous supporter of his Church, not only at local level in Geelong and Birregurra, but also as a member of the Church Assembly of both Melbourne and Ballarat dioceses. He contributed generously to the building of churches, to the Geelong Grammar School and to the building of St Paul's Cathedral, Melbourne. His public service was recognised when Melbourne University conferred on him the degree of Doctors of Law in 1867 and by imperial awards of Commander of St Michael and St George in 1870 and a knighthood of the same order in 1875.
Sir Charles Sladen died at his home on the Barwon at Chilwell on February 22nd 1884, aged 69. His grave is at the Eastern Cemetery Geelong. Apart from the large stained glass window there is a commemorative plaque to his memory at Christ Church Geelong. His wife Harriet died three years later, on June 12th 1887. They had no family.